Nomenclature of Gene Cassettes
To avoid incorrect naming and the attribution of different names to identical gene cassettes, INTEGRALL suggests the following nomenclature scheme.
Only integrons with new and completely sequenced gene cassette arrays should be considered for the attribution of new In numbers, according to the following scheme: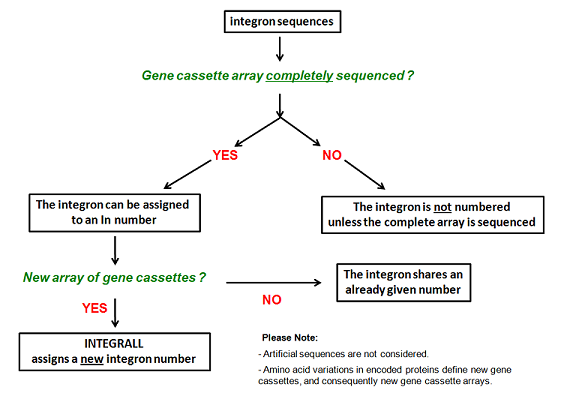 Check here the list of currently attributed In numbers (courtesy of Dr. Thomas Jové). For new In attributions, please contact us.


In the case of aminoglycoside-resistant determinants, INTEGRALL suggests the nomenclature proposed by Novick et al. (1976). Arabic numbers should be used to designate different subdivisions.
Family

Gene

Synonymous

Enzyme

Aminoglycoside Acetyltransferases

aacA

aac(6')

6'-N-acetyltransferase

aacB

aac(2')

2'-N-acetyltransferase

aacC

aac(3)

3-N-acetyltransferase

Aminoglycoside Adenyltransferases

aadA

ant(3'')

aminoglycoside-3''-adenylyltransferase

aadB

ant(2'')

aminoglycoside-2''-adenyltransferase

Aminoglycoside Phosphoryltransferases

aphA

aph(3')
In the case of beta-lactamase encoding genes, the name of the enzyme (in capitals) should be preceded with bla (e.g. blaOXA-10). Please check the standard beta-lactamase nomenclature at http://www.lahey.org/Studies/
In the case of trimethoprim-resistant determinants, INTEGRALL has adopted the nomenclature summarised by White and Rawlinson (2001).
Arabic numbers should also be used to designate different subdivisions.
Family

Gene

Synonymous

Enzyme

Dihydrofolate Reductases

Type A

dfrA1

dfrI

DHFRI

dfrA5

dfrV

DHFRV

dfrA6

dfrVI

DHFRVI

dfrA7

dfrVII

DHFRVII

dfrA12

dfrXII

DHFRXII

dfrA13

dfrXIII

DHFRXIII

dfrA14

dfrXIVb

DHFRXIb

dfrA15

dfrXV

DHFRXV

dfrA15b

dfrXVb

DHFRVb

dfrA16

dfrXVI

DHFRVI

dfrA16b

dfrXVIb

DHFRVIb

dfrA17

dfrXVII

DHFRXVII

Dihydrofolate Reductases

Type B

dfrB1

dfrIIa

DHFRIIa

dfrB2

dfrIIb

DHFRIIb

dfrB3

dfrIIc

DHFRIIc